(June 29, 2018) -- What do you do for an encore after you've set Kerr Cup All-Sport Championship records for points and margin of victory by virtue of becoming the only school in 10 years to lead the scoring for both boys and girls sports?
You pack up the office and call it a career. That's what Ron Whitcomb, the athletic director at Victor, is doing today.
Admittedly we have the cause-and-effect muddled here since his decision was made long ago, but Whitcomb is retiring from the school district and 27 years as AD and today is his last official one on the clock at the Section 5 school.
"It's how you want to go out," Whitcomb said this week.
The Blue Devils got near-perfect balance by posting 37 points in girls sports and 36 in boys competition during the just-concluded school year. Their 73 points beat back North Rockland (56.33) and three-time defending champion Shenendehowa (49.33). Burnt Hills-Ballston Lake (46.33) and Fayetteville-Manlius (41.83) rounded out the top five.
Victor won New York State Public High School Athletic Association championships in cheerleading, softball and boys ice hockey en route to becoming the first Section 5 school to capture the All-Sport Championship, named in honor of retired Post-Standard sports writer and long-time NYSSWA editor Neil Kerr.
The school clinched the overall title on the next-to-last Saturday of the spring season when the baseball, softball and boys lacrosse teams won state quarterfinals within a matter of hours.
"I went to the girls softball game in Buffalo and it was a tight one but we came out ahead. I grabbed some wings and watched boys lacrosse take care of business there," Whitcomb recalled. "And then I drove back to the baseball stadium in Rochester and watched us play one of the greatest games of the whole season.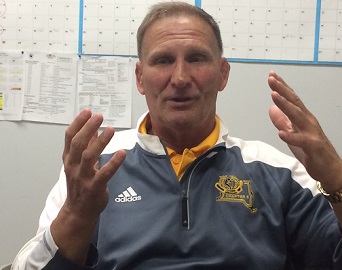 "I walked out feeling such a great high. Going 3-for-3 that day was a great feeling."
Only the softball team would win a championship the following weekend, but the Blue Devils had already pulled away from North Rockland and the rest of the field. The 73 points easily shattered the Kerr Cup record of 62.50 that Burnt Hills-Ballston Lake and Cazenovia scored when they tied for the 2011 championship.
Victor's best previous finishes were second-place showings in 2014 and '15, its only two appearances in the top 10. The school slipped to a tie for 22nd in 2016 followed by 15th place a year ago, but as I'd noted in a recent column the school has been a dynasty waiting to happen. In an Upstate New York landscape in which few districts show much growth, Victor is exploding in size.
When Victor made the switch from the Finger Lakes to Monroe County in 2009, it was 18th in its new league in terms of enrollment. It has climbed to sixth in less than a decade and could be No. 3 on that list in five years or less. The district has a bottomless well of students and a growing roster of teachers, many of whom are coaching as the modified, JV or varsity levels.
Matching the formula of past champions such as Burnt Hills and Shenendehowa, numerous Victor coaches at all levels have been with their programs for a decade or longer. One of