(July 18, 2017) -- It wouldn't be accurate to attribute all of the three-peat to a building project undertaken three years ago, but there is a cause-and-effect relationship behind Shenendehowa's third consecutive overall championship in the Kerr Cup All-Sport Championship.
Looking to add a new level of support for one of the state's largest and most successful scholastic athletic programs, the school district performed an overhaul of about 7,300 square feet of space beginning in the summer of 2014. It was part of a larger capital project approved about a year and a half earlier, and it transformed an existing fitness area into a multi-level center offering improved weight training and cardio workout options.
A more efficient layout, a bright paint job and incorporating natural daylight turned functional but somewhat dreary space into a place where athletes started adding a fourth set of lifts rather than rushing through three and began tacking a few extra minutes onto stair climber workouts while encouraging teammates.
Throw in a carefully orchestrated supervision plan, and the fitness center is a beehive of activity.
"We really maximize the facility from 7 a.m. to 7 at night," said Chris Culnan, Shenendehowa's athletic director. "We already had a successful program, but we knew this was the final piece. Over the course of two days, we might have 800 kids go through the facility between physical education classes and after-school activities.
"We used to have a somewhat stereotypical football-style room with lots of benches and squat racks. Now the lower floor is free weights and upstairs is the cardio area."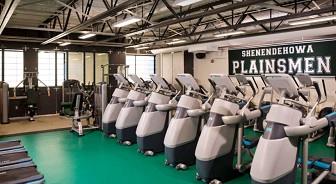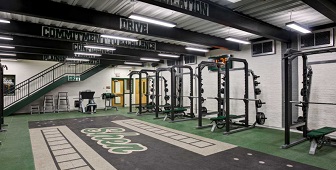 Where the benefit arguably shows up most clearly of late is in girls sports. Shen racked up 44.33 points in that portion of the New York State Sportswriters Association's ninth annual Kerr Cup All-Sport Championship. It was the best showing by the girls half a program since Garden City rang up 49.67 points in the 2010-11 school year.
Add in the boys' contribution, and Shenendehowa won the overall championship with 59.17 points to fend off North Rockland (52.33), Jamesville-DeWitt (51.83), Burnt Hills-Ballston Lake (49.50) and Somers (45).
Garden City (43.50), Pittsford Mendon (42.33), Vestal (42), Maple Grove (40) and Fairport (38.33) rounded out the top 10 in the Kerr Cup, named in honor Neil Kerr, the retired Post-Standard sportswriter who has been a driving force behind the New York State Sportswriters Association for half a century.
It's a thrill to win it three years in a row," Culnan said. "We're appreciative and humbled."
Not surprising for one of the New York State Public High School Athletic Association's larger schools, Shen scored in a broad range of sports -- 10 to be exact. There was only one official NYSPHSAA championship (field hockey), but Plainsmen squads racked up the most team points in state meets for girls indoor and outdoor track, and finished tied for first in boys alpine skiing.
Maybe the most pleasant development during the school year was the showing of the girls basketball team. The Plainsmen graduated almost the entire roster that reached the 2016 NYSPHSAA Class AA championship game, but they were projected to be able to build around fourth-team all-state selection Sydney Brown.
When the school year ended with the news that Brown was leaving the state to attend a prep school, coach Joe Murphy got to work on Plan B. Everyone moved up a notch on the list of responsibilities and expectations, and Shen made it back