Basketball

Newburgh punches its ticket to Glens Falls with 55-footer at buzzer
William Bouton's 55-foot heave at the buzzer banked off the backboard and into the basket on March 13, 2009, giving Newburgh Free Academy a stunning, 71-70 victory against Mount Vernon in the NYSPHSAA boys basketball quarterfinals and a berth in Glens Falls. With the first option covered, Bouton raced up from the foul line, caught the pass from Mike McLeod and turned and fired.
It capped a comeback from a 68-62 deficit with :50 to go, and
The Times Herald-Record
did a superb video package on the moment. [
Varsity845.com video
]

J-Mac scores 20
Jason McElwain, a high functioning autistic, had been the manager of the Greece Athena boys varsity basketball team and was given the chance to suit up for a regular-season game late in his senior year in February 2006. Coach Jim Johnson hoped to get McElwain onto the game for a brief appearance, and he got the chance with four minutes go to. McElwain missed his first two shots, but then sank six 3-pointers and another shot for a total of 20 points in three-plus minutes.
The story elicited such strong viewer response when it aired on the CBS Evening News that the network did a follow-up story on the next night's newscast. [ESPN video]

March badness at Madison Square Garden
A series of melees in the stands and outside the arena in March 2007 during the PSAL championship game between Boys & Girls and Abraham Lincoln got the public-school league evicted from Madison Square Garden.
There were more than 13,800 fans in attendance, and the incidents drew comparisons to the brawl among fans that erupted following the 1994 PSAL championship game at the Garden between George Washington High and Robeson High. [see WCBS video]
Cross country

True grit
Though the video is seven minutes long, the drama begins about 1:35 in as Claire Markwardt of Berkshire High approaches the finish line of the 2007 Ohio Cross Country Championships.
Markwardt was on a personal-best pace through two miles. With a quarter of a mile to go, she heard her already-tender left leg crack. About 200 yards later, she heard another crack. And then, within yards of the finish, it happened again, and this time she went down in a heap.
Despite the broken leg, Markwardt gutted out the remaining distance and crawled to the finish line. She placed 67th in the race, but No. 1 in the hearts of sports fans who appreciate her never-surrender attitude. [
see the video
]
Football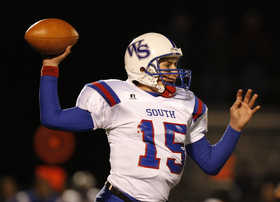 Williamsville South's Joe Licata throws for 492 yards (Sept. 17, 2009)
Williamsville South's Joe Licata shattered the Section 6 record for passing yardage in a game, rolling up 492 yards in a 62-32 victory against Williamsville North. The 6-foot-2 junior broke the 1980 mark of 455 yards by Cheektowaga's Jerry Hickson. The state record is a 543-yard effort by Greg Paulus of Syracuse CBA vs. Auburn in 2003. Licata fiished 26-for-37 with seven touchdowns. [
see video
]

Aquinas over Syracuse CBA in 2001 state semifinals
One of the all-time epic NYSPHSAA semifinal clashes took place in Class A in 2001 when Aquinas edged Syracuse CBA 37-34 en route to a state championship. All-around standout Ian Goodberlet kicked a 37-yard field goal with seven seconds to play to clinch for the Little Irish, who were led by first-team all-staters QB Mak Magliocco and RB Calvin Hall. This clip is a long one, clocking in at 9:55. [see video]
You've gotta have Hart
LeRoyFootball.com hosts the clip of Mike Hart's epic left-to-right journey in the fourth quarter of the 2002 state semifinals at the Carrier Dome. Though the play officially covered 64 yards, New York State's all-time rusher and future University of Michigan star covered much more ground than that while making two seemingly impossible escapes against the Le Roy defense to secure a 13-10 victory. [see video]

Miracle comeback in Texas
Plano East was trailing John Tyler, 41-17, with 3 minutes to go on Nov. 26, 1994. In quick succession, Jeff Whitley threw a TD to Terrence Green, Plano East recovered the onside kick, Whitley hit John Braddick for a short TD and Plano East again recovered the kick. Whitley hit Braddick to pull with 41-37, and Plano East recovered still another onside kick. Whitley threw for one more TD with 31 seconds left, and the extra point gave Plano East a 44-41 lead.
Game, set and match . . . right? Nope. A John Tyler player returned the kickoff 97 yards for the winning TD.
What really puts this 4:34 clip over the top, though, is the announcing by a crew from Plano that got increasingly worked up with each great play during the rally. As John Tyler was running back the kickoff for the winning TD, Mike Zuffuto, a coach at a nearby school, uttered the memorable, "God bless those kids. I'm sick, I want to throw up." [see video]

Iverson had all the answers in football, too
Allen Iverson is best known as a National Basketball Association star, but he was also a football phenom in high school. He led Bethel High to the Virginia state championship as a junior, then did the same thing in basketball. He was selected Virginia's player of the year in both sports. [see video]
Lacrosse

Canandaigua: Season in the Balance
The folks at New Balance latched onto a winner in the spring of 2009. Selecting from a number of contest entries, they chose to follow the Cananandaigua boys throughout the season and produce a series of nicely crafted weekly "webisodes."
Anyone would have figured the Braves would contend in Section 5 and perhaps even win a state championship, but the producers hit the jackpot as Canandaigua rattled off 20 straight wins to close the season and win the NYSPHSAA Class B championship in nearby Rochester. [
see videos at SeasonInTheBalance.com
]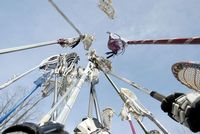 The toughest job in sports?
Middletown's Varsity845.com did a three-minute piece on lacrosse goalies in April 2008, calling their job perhaps the toughest in high school sports.
Hard-rubber balls are fired at them at up to 80 mph. Opponents criss-cross in front of them and behind them as they try to defend a goal that is 6 feet by 6 feet. They wear little or no protection on their legs and they are having a good game if they can stop 60 percent of the shots they face. [see video]
Misc.

Road trips
Large geographic areas combined with a relatively small number of schools can be a formula for long road trips to away games for high school teams. Greg Brownell, Jeffrey Fehder and Matthew Wadleigh of
The Post-Star
hopped the bus with the Bolton girls varsity soccer team for a Fall 2008 game at Long Lake to capture the flavor of what it's like to play on the road for some of the MVAC schools. [
see video
]