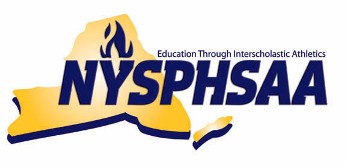 The New York State Public High School Athletic Association, Inc. is the largest and most important of the state's four key governing bodies for scholastic sports.
Founded in 1923, the NYSPHSAA developed the the rules that became the basis for the regulation handbook for sports issued by the state's Board of Regents in 1937.
The Association, which conducts championships in more than 30 sports each year, maintains its own web site at www.nysphsaa.org.
There is no formal relationship between the NYSPHSAA and the New York State Sportswriters Association. However, the NYSPHSAA has created a media advisory committee that includes a number of our members. One of the objectives of that committee is to improve the flow of information from state championship tournaments and meets so that everyone will have timely access to results via the Internet and the more traditional media.
The other major sanctioning organizations in New York are the AIS, CHSAA and PSAL.
The Catholic High School Athletic Association consists primarily of private and parochial schools in the New York metropolitan area as well as a handful of schools from the Diocese of Buffalo.
The Public School Athletic League is the organization governing the more than 150 public schools in New York City.
The New York State Association of Independent Schools has a membership of private schools spanning the entire state. Some AIS schools also hold membership in one of the state's other major athletic associations as well.